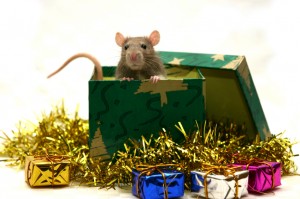 Unfortunately, it may not be unwanted relatives. It may be Rats! With the cooling temperatures and rain a warm, cozy, dry home can be very appealing to these little rodents. If holiday treats appeal to your family and neighbors keep in mind that rats will be drawn to them as well.
What to Consider
If you see one rat you can assume there are more. Buying products at the store to rid your home of rats often don't work. Additionally, adding poisons that can kill rats inside your home can cause health problems and smells you don't want for the holidays.
Hire A Company You Can Trust
If you don't live in the Sarasota – Bradenton – Tampa area you should look at what we offer and find a company that offers similar services you can trust.  Ask if they have a warranty and don't let them just stick poison all over your home.
Rat Remover only uses the latest techniques in rat trapping and rodent tracking. We offer effective rat removal, rat trapping, rat proofing, disinfection and clean-up services. We also offer warranties that can be renewed to ensure you get what you pay for.
We serve residents and businesses throughout Sarasota, Bradenton, Venice, Tampa, Clearwater, St. Petersburg, and Largo.