Rodenticide Baiting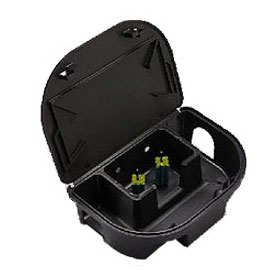 Rodenticide stations, or more commonly called bait stations, use a chemical that causes anti-coaluglation within warm blooded animals. This means that there blood thins to a point that clotting will not happen and the vessels leak blood causing internal bleeding. An old wise tale says that them chemical makes them run for water, but this is no more than a side effect of the chemical. Most people are convinced that they will leave a structure for the water but in reality they get enough water from condensation of A/C lines, which run throughout the building thus leaving decaying rodents to cause unpleasant odors.
Baiting on the outside of homes and buildings is very useful for population reduction and control. You must be sure that your home has been properly sealed to keep rodents from entering after digesting the poison.
NEVER BAIT IN A HOME…. YOU ARE JUST ASKING FOR PROBLEMS.
Other Rat Services
Who We Are

Our Mission Statement

Nuisance Wildlife Removal is committed to providing safe, effective and humane solutions to all nuisance animal problems in private homes and commercial properties throughout West Central Florida

Learn More About Rat Remover