On a cold Tuesday morning in January, Adaly Perez woke up and checked on her 1-year-old daughter, Ava.
The night prior, Perez had dressed Ava in a pink and grey leopard print sleep suit. In the morning, Perez noticed small black dots on her daughter's pajamas: mouse droppings.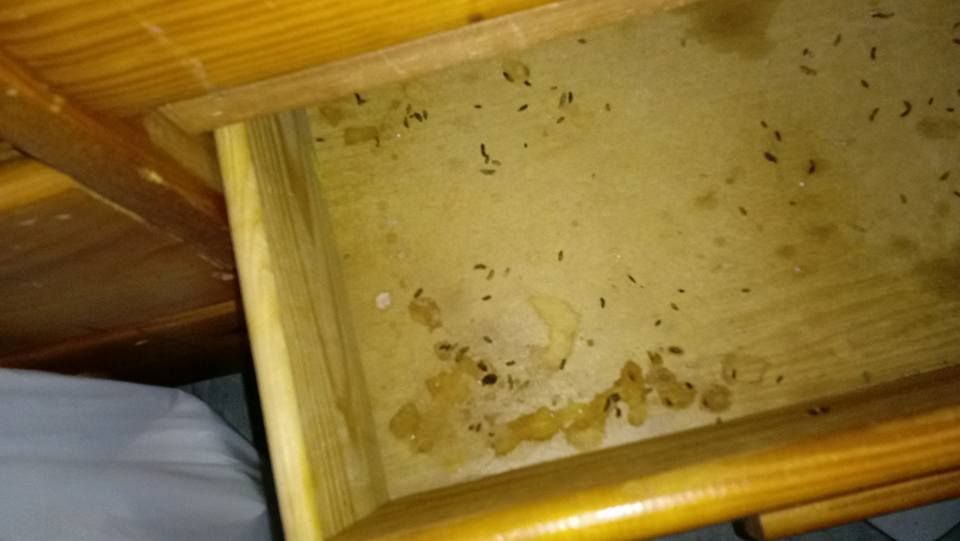 She lives with her daughter in a shelter, located on Main Street in Holyoke operated by the Valley Opportunity Council. The four-story building provides rooms to homeless families.
Multiple families spoke with MassLive, reporting unsanitary and unsafe conditions.
Perez moved into the shelter this year, sharing a room with her daughter in the 14-room facility. Immediately, she said, she expressed concern about vermin coming in and out of the room.
"We have a real bad mouse situation," she said, of seeing droppings in the room she was assigned to, common spaces in the shelter and bathrooms.
 WORRIED ABOUT RATS or MICE? Call 1-866-263 WILD!
Several days into her stay at the shelter, Perez says she spotted the droppings on her young daughter. Concerned she wouldn't be believed, she quickly snapped a few photos before pulling her daughter from her crib and changing her clothing.
Perez is worried: her daughter spent her first moments alive in a neonatal intensive care unit due to a weak respiratory system. A year later, her breathing problems remain a concern. During a recent trip to the hospital, Ava was placed on a ventilator. 
"If she were to get sick, it could be fatal," Perez said, of her daughter.
Since arriving at the shelter, Ava has been congested, suffering a stuffy nose and a wet cough.
Lisette Cruz, another mother living in the shelter, said rodents have been an ongoing issue. She moved in with her 3-year-old daughter and 4-month-old son in October but has yet to unpack. When she opened a drawer in their room, Cruz said it was contained mouse droppings and smelled of pee.
"I have my clothes in bags still," she said while speaking to MassLive last month. "I found poop in the drawers, in my son's crib."
After alerting shelter staff to the issue, Cruz said she was told the issue was due to residents eating in their rooms.
"So we all stopped bringing food into the rooms but we still see them," Cruz said.
Families were placed in the shelter by the Department of Housing and Community Development, which provides operational funding to the Valley Opportunity Council-run facility.
Families pay 30 percent of their income as rent for rooms. 
According to inspection reports on file with the city and state, ongoing pest control efforts are occurring within the shelter. Routine inspections of the shelter are done by state and local officials, including an inspection in January by a Holyoke public health official following a complaint filed with the city board of health.
"In review of your weekly extermination reports, I did notice that you were having weekly treatment for mice," Sean Gonsalves, a sanitarian with the city wrote in an email to the shelter director following his inspection. "That weekly treatment is in line with the recommendations that would be made by this Department for rodent issues."
The Department of Housing and Community Development said it takes complaints regarding the conditions of shelters seriously and has taken appropriate steps to mitigate concerns of pests, including mice and bedbugs.
Residents say extermination efforts include metal traps in the rooms. While effective — Perez said she has found a mouse in a trap in her room — parents in the shelter fear young children will crawl too close and become injured by the traps.
Feeling residents weren't being heard internally, several contacted news organizations and shared photos of the shelter on social media.
 WORRIED ABOUT RATS or MICE? Call 1-866-263 WILD!
Rat Remover is a subsidiary of Nuisance Wildlife Removal, Inc. We are very well known in the community as the Go-to expert with the highest experience level in solving difficult insect and pest infestations efficiently and easily. We employ advanced technology such as thermographic cameras and Go-pro. This reduces the amount of damage to your structure and this will reduce the overall cost of your project.  
 WORRIED ABOUT RATS? Call 1-866-263 WILD!