Fruit Rats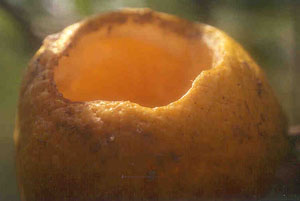 If you're seeing alot of hollowed out fruit rinds in your yard, its a sure sign of the presence of "Fruit Rats" otherwise known as "Roof Rats". The most common rats in America, they are most often found where people are. Sometimes seen on the ground, but they prefer attics, rafters and roofs for getting around, mostly at night.
If they get into your home, they will eat anything they can, and will gnaw through doors and walls to get to any food they can smell. People often don't know they have rats until food starts disappearing in the house.
These rats breed year round, and babies are mature enough to breed at 3 months old.
Who We Are

Our Mission Statement

Nuisance Wildlife Removal is committed to providing safe, effective and humane solutions to all nuisance animal problems in private homes and commercial properties throughout West Central Florida

Learn More About Rat Remover